TOP > Products > Medical Foods > Hine
Hine
®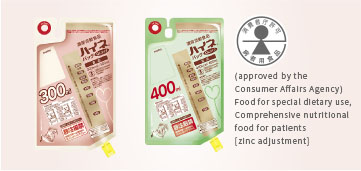 Hine is a concentrated liquid diet. The composition of the product is based on the Dietary Reference Intakes for Japanese (2005).
The standard product intake is 800 kcal to 1600 kcal per day. It can be used for persons with low energy needs.
The product contains 5.0 g of proteins per 100 kcal (1 kcal of energy per mL). The product contains sodium, potassium, and chloride in balanced concentrations.
Allergy information
This product contains milk and soybeans. Do not consume the product if you are allergic to these ingredients.
Nutrition facts
(100 mL)
Calories 100 kcal, protein 5.0 g, fat 2.3 g, carbohydrate 15.7 g, sodium 177 mg, dietary fiber 1.2 g, and lactosucrose 0.25 g.
Water 84.6 g
Product category
Concentrated liquid diet
Ingredients
Maltodextrin, vegetable oils, hydrolyzed guar gum, lactosucrose syrup, medium-chain triglycerides, salt, yeast, kombu extract, casein, emulsifier, magnesium chloride, calcium phosphate, potassium hydroxide, vitamin C, citric acid, crystalline cellulose, potassium phosphate, carrageenan, vitamin E, niacin, ferric pyrophosphate, calcium pantothenate, vitamin B1, vitamin B6, vitamin B2, vitamin A, folic acid, vitamin K2, vitamin D, and vitamin B12 (milk and soybeans are included in the ingredients).
Volume
300 mL, 400 mL
Best before date
9 months after manufacturing date
Storage
Store in a dark place. The product can be stored at room temperature, but should preferably be stored in a cool place. Avoid storing in freezing environment.
Distributor
Otsuka Pharmaceutical Factory, Inc.
Manufacturing site
EN Otsuka Pharmaceutical Co., Ltd.
4-3-5, Nimaibashi, Hanamaki-shi, Iwate
Click here to buy the product
(available only on the Japanese site).