TOP > Products > Medical Foods > Hine Bag
Hine
®

Bag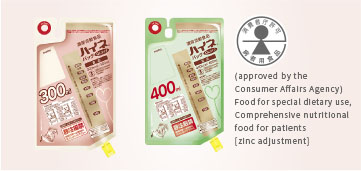 Hine Bag is a comprehensive nutritional food (zinc adjustment) for patients of food for special dietary use, approved by the Consumer Affairs Agency.
Approved labeling
Hine Bag is a comprehensive nutritional food with well-balanced nutrients to be taken asa diet. It is suitable for persons who have difficulty taking sufficient nutrients with a regular diet due to medical conditions.
Labeling of zinc adjustment
The standard range of zinc of comprehensive nutritional food is 0.35 to 1.5 mg (per 100 kcal). Hine Bag contains 1.8 mg of zinc (100 kcal). Therefore "zinc adjustment" is labeled.
The product can be used for persons whose standard calorie intake is 800 to 1600 kcal per day. It can also be used for persons with low energy needs.
The product contains 5.0 g of proteins per 100 kcal (1 kcal of energy per mL). The product contains sodium, potassium, and chloride in balanced concentrations.
Precautions for use
1.Consume under the direction of physician or registered dietitian. When supplying nutrients with the product alone, take care about the amount of each nutrient and the amount of water. It is a comprehensive nutritional food which can be used for persons whose standard calorie intake is 800 to 1600 kcal per day. It can also be used for persons with low energy needs.
2.Do not use the product with foods, supplements, or drugs which contain much zinc because such concurrent use may cause excessive intake of zinc.
3.Never administer the product intravenously.
4.Do not consume the product if the container is leaking or expanding, if abnormal color, taste, or smell is noted or if coagulation and separation are noted when opening the container.
5.When warming the product, immerse it in hot water without opening the container and warm to near body temperature. Do not heat for a long time or repeatedly.
6.Do not mix with acidic substance such as fruit juice or with much salt because such mixing may cause coagulation of the product.
7.Consume promptly after opening the container. After use, discard all unused product. Do not reuse.
8.Consume within the best before date.
9.The product is suitable as food for dietary therapy. Much consumption of the product does not contribute to cure of disease.
Precautions for handling
1.Store and handle with due care because the container is easily damaged by dropping or physical impact.
2.Do not heat the product as it is contained in the container in the microwave or on an open fire.
3.When connecting the product to a feeding tube kit, make sure that the product is correctly connected to the spout of the container before use.
4.When water is added using this container, tear at the notch on the top of the container, open the zipper, and add clean water or lukewarm water hygienically. Be sure to close the zipper completely because the contents may leak if the zipper is not closed properly.
5.The container is disposable. Do not reuse.
Nutrition facts
(100 mL)
Calories 100 kcal, protein 5.0 g, fat 2.3 g, carbohydrate 15.7 g, sodium 177 mg, dietary fiber 1.2 g, and lactosucrose 0.25 g.
Water 84.6 g
Product category
Concentrated liquid diet
Ingredients
Maltodextrin, vegetable oils, hydrolyzed guar gum, lactosucrose syrup, medium-chain triglycerides, salt, yeast, kombu extract, casein, emulsifier, magnesium chloride, calcium phosphate, potassium hydroxide, vitamin C, citric acid, crystalline cellulose, potassium phosphate, carrageenan, vitamin E, niacin, ferric pyrophosphate, calcium pantothenate, vitamin B1, vitamin B6, vitamin B2, vitamin A, folic acid, vitamin K2, vitamin D, and vitamin B12 (milk and soybeans are included in the ingredients).
Volume
300 mL, 400 mL
Best before date
9 months after manufacturing date
Storage
Store in a dark place. The product can be stored at room temperature, but should preferably be stored in a cool place. Avoid storing in freezing environment.
Distributor
Otsuka Pharmaceutical Factory, Inc.
Manufacturing site
EN Otsuka Pharmaceutical Co., Ltd.
4-3-5, Nimaibashi, Hanamaki-shi, Iwate
The product contains milk and soybeans. Do not consume the product if you are allergic to these ingredients.
Click here to buy the product
(available only on the Japanese site).